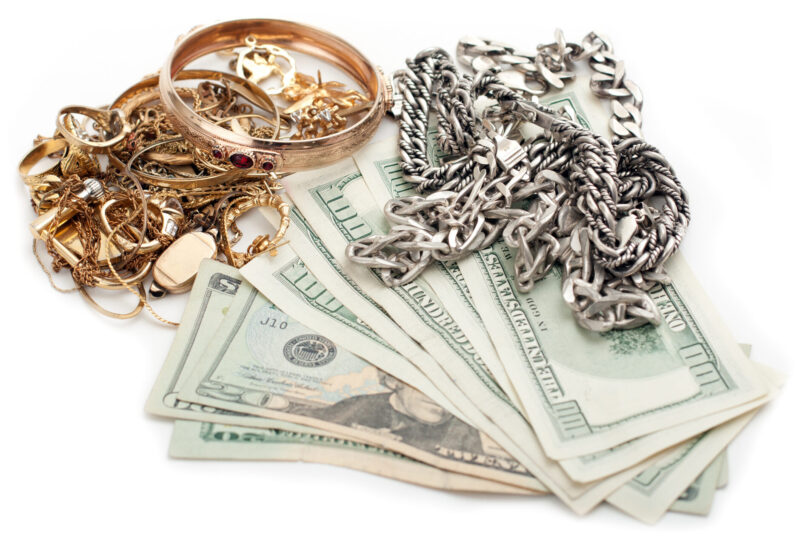 Do you have any jewelry or items that are broken or you just don't wear anymore?  Consider bringing in those items to us and we will purchase them from you.  All items that we purchase are broken down and melted into new pieces; we do not resell any items that we purchase from our customers.
Below is a small list of some of the items we buy:
Gold, White Gold, Silver and Platinum
Antique and Heirloom Jewelry
Gold Watches
Broken & Mismatched Jewelry
Wedding Rings
Class Rings
Silverware and Flatware
Dental Gold or Silver Caps
Coins & Bullions
How to Identify What You Have
We buy jewelry that is made of precious metals such as gold, silver, and platinum. Each type of precious metal is typically stamped with markings unique to the type of precious metal. When in doubt, bring all the jewelry you wish to sell to Gold and More and our staff will help you determine the authenticity and weight of your pieces. Below are some guidelines to use when gathering your jewelry to bring to Gold and More.
American gold jewelry is measured by karats. Look for a number followed by the letter "k", such as "14k". The stamps are often small, so you may need to use a magnifying glass to view them. Look on the inside of rings and bracelets and on the edge of earrings. Silver may be stamped with one of three different types of identifying markers: STERLING, .925, or Silver.
We will also take your broken or old pieces as a "trade-in" option if you find a piece of jewelry in our store that you just can't live without. Or, if you have sentimental pieces that you can't bear to part with, we can take those pieces and create something new, allowing you to keep those items as an exciting, new piece made just for you!
GOLD AND SILVER SALES:
Are you looking to invest in the gold and silver market? We usually have gold and silver bullion or coins in stock. If we don't have it, we can order it for you.