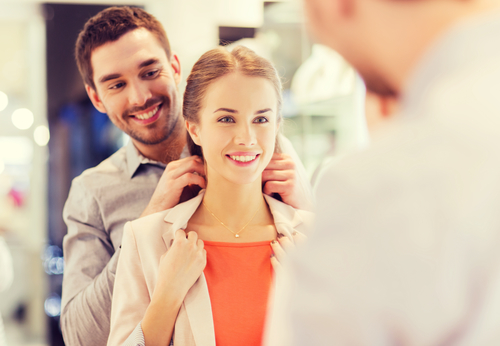 The whole concept of buying jewelry is not something that should be taken likely. Too many times, people have reported that they purchased a piece of jewelry that turned out to be fake, or was poorly manufactured. As such, you need to ensure that you only purchase jewelry from a reputable Kansas City Northland Jewelry Store. There are several things that make a reputable store stand out. In this post we're going to take a look at what those attributes are and the reasons why you should only purchase or have your jewelry repaired by a reputable and established store.
1) Excellent Customer Service Skills
A reputable store, will have experienced staff members that practice and demonstrate excellent customer service skills. Excellent customer service skills entail being able to listen to and understand a customer's inquiries. This is a very important part of the jewelry selection process. Respected jewelers will be able to focus on you and your needs. For example, when it comes to brides, they will be able to focus on her desires and needs so that they can provide her with a solution that suits her style. Excellent customer service skills also entail being able to put the needs of a customer before the store's objective. What this means is that they will go above and beyond to provide you with something that you will love, as opposed to pushing something solely based on the price of it, as is the case with stores that have yet to acquire any type of reputation.
2) Established
A reputable store, is a store that has been established within the community for several years and has been credentialed. Since their original date of establishment, they will have undoubtedly gotten plenty of reviews which you will be able to view online. You can use those reviews to determine if they are the right fit for you. This is not something you would be able to do with a company that has little to no reputation. Besides that, the fact that the company has been in establishment for several years is a testament to the fact that they consistently satisfy their customers year after year.
3) Several Services – Greater Convenience
Most,  if not all,  reputable Kansas City Northland jewelry stores will offer a wide array of services. While this may not seem beneficial at first glance, consider this. Let's say you visit a reputable jeweler who has an in-house gemologist that provides you with the right kind of stone that suits your style and budget. As an additional service, this Kansas City Northland jewelry store also employs a bench jeweler who can size that ring for you at the time of purchase saving you a trip and offering added convenience.
4) Certification
A reputable store will have staff members who have their respected credentials. Some of those include certification from the Gemological Institute of America, Gemological Science International, American Gem Society as well as the International Gemological Institute. The point being is that unlike a big box store, a reputable jewelry store will have certified staff members, who know what they are doing.
5) Trust
When it is all said and done, one of the most important reasons why you should work with a reputable jewelry store is the fact that their reputation indicates their success, their customer service skills and more importantly, their reliability. Noone would want to purchase or have their jewelry repaired by a store that they feel cannot be trusted. By working with a reputable dealer/repair shop such as Gold & More Jewelers,  you can be rest assured that you can trust their products and services.
6) Iron Clad Warranty And Return Policies
Reputable jewelers tend to have a higher level of profitably than stores that do not have a solid reputation. As such, they are able to provide you with warranties as well as return policies that are superior to their counterparts. If this is an area of concern, this is yet another reason why you should only work with a reputable jewelry store.
7) Will Be Able To Show You The 4Cs
Now, if you go to a jewelry store that has little to no reputation whatsoever and ask them what a diamond's 4Cs are, they may look at you as if you're crazy. However, a diamond's 4Cs is essentially what determines the quality of a diamond which are:
* Color
* Carat Weight
* Cut
* Clarity
A reputable jeweler will be able to provide you with the tools you'll need to see the true beauty of what you are going to purchase or in essence, the 4Cs of it.
Looking for a Reputable Kansas City Northland Jewelry Store? Look no further than
Gold & More Jewelers
816-781-4563