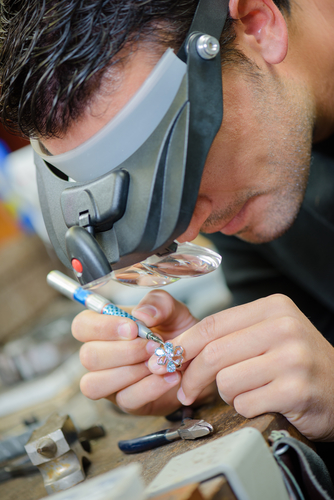 The task of finding a jeweler near Kearney, MO is relatively simple. All you would need to do is to do a quick search on your favorite search engine. In the same breath though, the same thing cannot be said about the process of finding a reputable jeweler that you can trust. The key to finding a reputable jeweler goes deeper than fancy marketing words, seemingly good customer service or a professional work environment. What's you will need to do is to evaluate their character in regards to their ethics as well as their credentials and experience. Let's take a look at how you can do just that.
1) Recommendations 
Even though it may seem cliche, you'll be putting yourself one step closer to finding a reputable jeweler by asking your friends if they have any recommendations. Therefore, do not hesitate about the concept of asking your friends about their experiences with other jewelers near the Kearney, Mo area.
2) Credentials
Before you evaluate their character, you will need to check their credentials. Reputable jewelers should have credentials from an international gemological school such as a Graduate Gemologist or Accredited Jewelry Professional credentials. During graduate gemologist programs, aspiring jewelers learn the technical knowledge as well as the science they will need to work with a wide range of different diamonds and colored gem stones.
3) Online Presence
After you have checked their credentials, you should conduct a local search online to see if they have an online presence. While it may be true that many locally based companies that conduct jewelry repair near Kearney, MO are not tech-savvy, a reputable jeweler who prides her/himself with his/her business will definitely have an online presence. Therefore, if the jeweler you are interested in does not have an online presence, view this as a warning sign that they do not take their business seriously. If you find an online presence such as an excellent website/social media profile, check and see if you can find online reviews, as well as for positive and negative comments on their social media profiles. Additionally, if the website is not optimized for use on a mobile device or if the website was created poorly, this also indicates incompetence.
4) Conversation 
At this point,  you should have a list of jewelers that you are interested in that have the right credentials and a solid online presence. Now it is time to evaluate their character/ethics. The first thing you will need to do is to determine if they are listening to you and how they respond to your needs. Respected jewelers will focus on the needs of their clients in regards to their goal and budget. Red flags include pushing their own agenda such as attempting to get you to spend more than you want to.
5) Services
The next thing you should look at are their services. An experienced jeweler will offer a wide array of services that cater to different clients with different needs such as to repair or re-size jewelry, as well as to evaluate the properties of semi-precious and precious stones. The point being is that their selection of services is an indication of their level of experience, as well as their dedication to the field.
6) Ability To Answer Questions Without Delay
A reputable jeweler should be able to confidently answer any questions that you ask with ease or direct you to someone else that is in-house who can. Therefore, do not hesitate if an individual cannot answer a question you believe they should be able to answer, to walk out the door and into the door of another reputable jeweler who provides jewelry repair near Kearney, MO.
7) Warranties and Returns
Ensure that you take the time to check their policy regarding warranties, returns and to see if they offer insurance. Insurance will come in handy if they damage a piece of jewelry that you wanted them to repair. On the other hand, in the event that you make a purchase,  you should have a clear understanding of the company's warranty and return policy.
8) Test Run
In the event that you want to have something repaired, before you allow them to repair your jewelry just yet, it's highly recommended that you do a test run as a last minute insurance. While the jeweler may offer a money-back guarantee for bad repair jobs, you may have jewelry that holds sentimental value which cannot be replaced with something identical. Therefore, do a little test run by asking them to perform a very minor repair job such as soldering a silver bracelet for example.
These are all good recommendations to keep in mind when searching for jewelry repair near Kearney, MO – Finding a reputable jeweler is so important when having jewelry that is valuable whether in financial value or sentimental value.
Call Gold & More Jewelers
Today for Jewelry Repair Kearney, MO
816-781-4653