Popping the question and proposing marriage to the love of your life is certainly one of the top memorable moments in your life.  While all the details and planning of the proposal have been taken care of already, there is one tiny thing that requires a bit more attention to detail: the engagement ring.
If you want to absolutely blow her away though, we recommend that you go with a halo engagement ring Kansas City, since its special design (with a circle of tiny precious stones circling around a center stone) makes it look very much like the rings worn by royalty. In terms of looks, there are many of them you can choose from based on the ring's design – everything from double halo rings to retro styles and more are available.
What you need to know about finding a halo engagement ring Kansas City:
The benefits of halo rings
Setting styles
Shape of the halo
And the cut of the center stone
More impressive
If you would like to make the center stone of the ring you are going to surprise your significant other with appear a bit larger, then going for a halo diamond ring is the best way to do that. Better yet, the cost is also much lower compared to buying a bigger stone.
It is also important to bear in mind that the cost of diamonds does not actually increase linearly. This means that if you opt for a 2 carat stone, then it will not actually be 2 times costlier than a 1 carat stone: it's more like 8 times the cost.
The smaller stones the jeweler will use in order to create the halo may be quite small but add up to big sparkle when all added together surrounding the large stone in the middle, What this means is that you can easily add a bit more bling to your halo engagement ring Kansas City without having to worry about breaking the bank to do it.
Protection
When opting for a halo setting, you are getting a ring that typically features a large center stone that is appropriately protected from potential damages. You are right when you are thinking that diamonds are one of the most durable materials in the world, but damage to their outer edges is very common.
So if you have a ring with an exposed girdle, then cracks and chips are sure to develop over time, especially if the ring is constantly hit against hard surfaces. The halo setting's metal edges can effectively cushion these hits and protect the center stone.
The halo's shape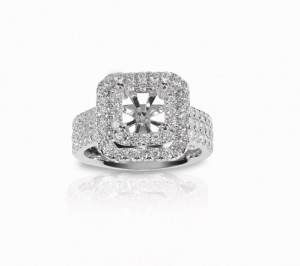 Some people prefer to have the center diamond cut in fancy shapes, such as emerald, radiant, princess or cushion cuts and in this case, it is very important that the halo follows the stone's shape. However, if you opt for a round brilliant cut stone, then the halo's shape should be a cushion or circle shape, depending on which of the two complements the hand better.
Halo options
There are many options when it comes to halo engagement ring Kansas City.  There is a classic halo engagement ring, along with more modern styles and of course custom designing is also an option when it comes to halo engagement rings Kansas City. A good idea may be to search the internet for jewelers, such as Gold & More jewelers that showcases all your options. After all, if you want to put together a custom halo ring, details are very important to get it right and have the peace of mind it is going to be just the right choice that will be cherished and loved for a lifetime.
The center stone
When it comes to the center stone, it can be a colorless diamond, a fancy colored diamond or any other precious stone you may like (sapphire and tanzanite seem to be very popular alternative choices). However, if you are on a budget and cannot afford a center stone, then you may wish to go for a cluster of small diamonds. You will still get the same carat weight of a large stone, but at a much lower cost.
Finding a halo engagement ring Kansas City is all about knowing what you want and doing your research about the various types of cuts and stones available. Better yet, it is actually recommended that you speak to an experienced and trustworthy jeweler in your area, such as Gold & More Jewelers if you are looking for something unique and the professional, skilled jewelers will be more than happy to guide you in this very important decision.
Halo Engagement Ring Kansas City in your Future?
Call Gold & More Jewelers Today?
816-781-4653