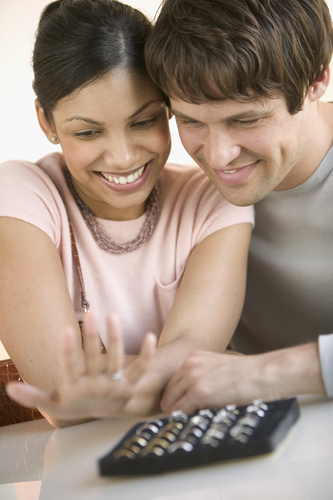 So you've finally decided to pop the question, but before you can do that, you need to know more about what you should consider when buying engagement rings Kearney MO.
We can help you choose the right ring for this special moment in your life so that when you place it on her finger, it is going to fit perfectly and look amazing.  Some things to consider:
Your budget
Precious metal
Gemstone
Custom rings
Decide on a Budget
There is no set amount of money that you should spend when it comes to purchasing engagement rings near Kearney MO. Generally. people spend as much as they are comfortable spending. Gold & More Jewelers has been in the industry for over 20 years, we can definitely help you find a diamond or any other gemstone that balances quality and size at a price that does not go over the amount of money you wish to spend for the ring.
If you think a real diamond is too expensive, we can also tell you more about laboratory created diamonds which seem to be quite popular among those with a modest budget.
How About Purchasing An Antique?
If your soon to be fiance loves vintage decor, clothing and jewelry or loves books and movies set in centuries or decades past, then you should definitely consider an antique engagement ring. What makes these special is the fact that they have a lot of history behind them and since they come from a time long past, they bear a sense of romantic history that some women long for.  Better yet, when it comes to cost, they are usually more affordable than new rings of similar quality.
Go For a Precious Metal
In general, when it comes to buying engagement rings Kearney MO, you can choose between a few metal options, such as rose gold, yellow gold, white gold and of course, platinum. White gold and platinum are by far the most popular choices and while they share a lot of similarities, platinum is about fifty percent more expensive and also more durable. If you do not know what type of metal you should go for, let the professionals at Gold & More pass on their years of experience and guide you in that decision.
Buy a Gemstone
In general, classic engagement rings feature a center diamond which may not be to  her liking.  In our experience, approximately ninety percent of classic engagement rings near Kearney MO feature a diamond, but if your girlfriend does not like diamonds or you cannot afford one, a sapphire is also an excellent alternative to consider.
It is also important to mention that sapphires and diamonds are extremely hard gemstones, with diamonds ranking ten and sapphires ranking nine on the Mohs mineral grading scale (a one to ten scale at that). Since sapphires are a bit more affordable than diamonds, it is an excellent choice if your budget does not allow for that large diamond.   In terms of color, sapphires are not only available in blue, but also in pink, yellow and many other colors.
Go Custom
If you want to be unique and propose to your girlfriend in an artistic way and offer her a ring that is unlike any other out there, then it is best to go custom. To get the best bang for your buck and ensure you are going to be completely satisfied with the results, you need to speak to an experienced jewelry designer about your needs. You can get in touch with Gold & More Jewelers anytime and we'll be more than happy to help you create a design your girlfriend will love, while staying within your budget.
Engagement Rings Kearney Mo
Gold & More Jewelers – Look No Further
816-781-4653