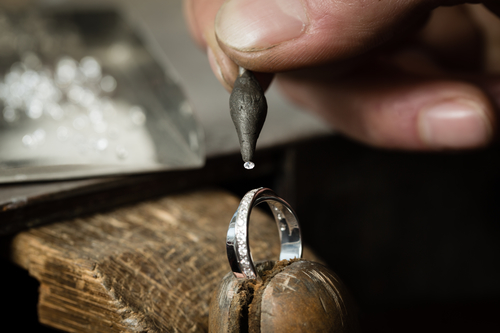 From the necklace passed down from your grandparents to the engagement ring on your finger, jewelry is undeniably a pleasant part of life. And while it is true that people usually have jewels that carry much sentimental value, when it comes to customized jewelry, the emotional value can be even greater. After all, knowing that the ring on your hand was made exactly to fit your finger by someone that loves you, makes that ring that much more valuable to you. The benefits of finding custom jewelry design Kansas City from a reliable, certified local jeweler such as Gold & More Jewelry are many:
Specifically made for you
Has a unique and original design
Superior build quality
Priced almost the same as store-bought jewelry
Much love and care was put into the design
One of the first benefits of choosing to get custom jewelry design Kansas City is the fact that it actually shows how committed you are to your significant other and the special bond you share. For instance, if you want to make a custom ring for her, then you are going to be directly involved in the process from start to finish. You will let the jeweler know exactly what design features you would like him to incorporate, the materials you want him to use and the thickness of the materials.
Custom jewelry is one of a kind
Did you know that when you actually purchase a ring or necklace or bracelet from the local jewelry store, you're basically buying a piece of jewelry that thousands of other women wear? Yes, that's right! So don't be surprised when you notice that same ring, necklace or bracelet being worn by some of your friends. On the other hand, custom jewelry design Kansas City is unique, so this means that no other person out there but your loved one has such an eye catching, unique, wonderful piece of jewelry. So if you really think she is special, then you should certainly put your money where your mouth is and prove that.
Superior build quality
You may think that the build quality of custom jewelry is the same or even poorer than that of store-bought jewelry, but that is not the case. In fact, custom jewelry is built with a lot more attention to detail and typically uses higher quality materials. This means that when you get a custom ring or necklace for instance, you can have the peace of mind it's made under the microscope by a professional with many years of experience behind him. As you may expect, you will hardly ever get this caliber of quality from just any jewelry store.
You are treated with respect and courtesy
Professional and experienced custom jewelry design Kansas City that can be found at Gold & More Jewelers are very fond of their clients so you can expect to be treated with the utmost respect. Don't be surprised to also know that some jewelry designers can even add a few more precious stones or extra design elements for a discount, just to show how much they appreciate their art and customers. On the other hand, if you were to buy your jewelry from a big box jewelry store where the salespeople are only  motivated by money, you may end up paying more for poor quality jewelry.
What you can expect from the custom jewelry design process
The first step you need to take if you want to get custom jewelry design Kansas City is to do some research in order to learn more about the custom jewelry shops in your area. After finding a few, meet up with them in person in order to tell them about your wants and needs and provide them with some drawings of how you would expect the piece of jewelry to turn out. Once you discuss with the jewelers your vision and budget  and give them the green light to start crafting your ring, they will create a cast and proceed to forging your jewelry with your chosen metal.
Next, they detail and texture the piece, followed by selecting the type and number of precious stones you would like the jewelry to incorporate. The last step involves polishing the piece of jewelry until it looks exactly like you had envisioned it. The results will definitely impress that special someone in  your life as long as you hire an experienced, reliable and professional jeweler to craft the custom piece for you.
Looking for Custom Jewelry Design Kansas City???
Look no further than Gold & More Jewelers!!  
816-781-4653